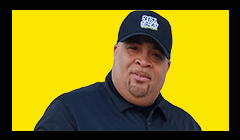 The Rocket City is Ed Gaines's home. He began his broadcasting career in 1995 as an afternoon announcer on Huntsville's only gospel station.
During those years, Ed worked at WLOR 1550 AM from 1995 to 2000 in Huntsville.
From 2000 to 2014, He has spent twelve and a half years at Sunny 98 & 1550, as both program director and morning show host.
Ed loves music and sharing his passion for it with you. He's wanted to be in broadcasting since he was 3 years old and got a"wooden"microphone for Christmas!
He enjoyed doing mornings. However, the 3am alarm comes early. You know what they say, "early to bed, early to rise…" Well, He's still waiting on the "wealthy" part to that one.
When Ed's not working, he's usually spending time with his wife, Lynda, daughters Tiffany, Tanisha, Amberly, Ashlyn, and son Harrison.
Since 2014 Ed makes your work day fun 10am-3pm Monday-Friday and some Saturdays on the 98.1 The Beat.