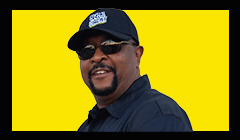 Rick Lee is 'The Real Deal' when it comes to Rocket City Radio. Rick has been a DJ from his high school days, and the 5th quarter dances after the high school football games, to today's radio vet.
After returning from the Military, Rick started his professional Massage Therapy service working in chiropractors offices and his office. Rick's love for music and radio never died, he got his first radio gig at the local R&B/Gospel AM station in the early eighties. In his first introduction to radio, he was instructed to learn, to become a professional radio personality with the training and knowledge to work in any radio style format and that commercials sales are a major part of radio success.
Since that time Rick has continued his radio career in R&B, Hip Hop, Oldschool, Jazz, Top 40 CHR, Country radio formats. His stops include the orignal WENN 107.7 in Birmingham, WQQK-92Q Nashville, Tennessee Valley stations WDRM, WZYP, WHRP, WEUP, WJAB, WHWT-Hot 103.5.
Ricks is also known by others in the radio business as a triple treat, well-rounded radio vet due to his experience as Program/Music Director, Promotions, Production and Advertising Sales. Two of the biggest reason Rick loves the on-air side of radio are the listeners and music.
Rick loves to make people smile and have a great day! He also loves kids and has volunteered for many years to coach little league, middle school and high school football, and a little basketball. He is always willing to lend a hand to the community when ever possible.
Rick has made his home at 98.1 The Beat FM. He's happy to entertain and uplift your day each afternoon Monday-Friday 3pm-7pm and some Saturdays on 98.1 The Beat!