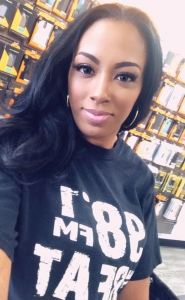 Kandi Knight is a classic, passionate, and upbeat Huntsville native. She has a deep love for the arts, beauty, media, music, and life.
She has been in the radio business since 2005. What started out as a fun, media-related job to go alongside her college degree turned into much more. While studying at Oakwood University in Huntsville, AL, she began working at the school's radio station, WOCG (Now known as WJOU.) Shortly after graduating with her Bachelors degree in Communications, she moved on to a local station, WEUP, continuing her on-air work for their FM and AM sister station. In June of 2017, Kandi joined The Beat family.
Radio has played a big part in shaping who she has become today. Being involved in the community, celebrating city events, speaking with and meeting listeners, and using music and words as a tool to bring light to a listener's day are some of her industry highlights.
Kandi enjoys spending time with friends and family, listening to music, sleeping, indulging in her favorite food: chocolate, a good massage and adding to her infamous lipstick collection.
You can hear Kandi Knight's "Inspirational Word of The Day," learn a little history with "On This Day" and get "Beauty, Health and Wellness Tips" as she adds a little sweetness to your weekdays from 12-3pm on 98.1 The Beat!